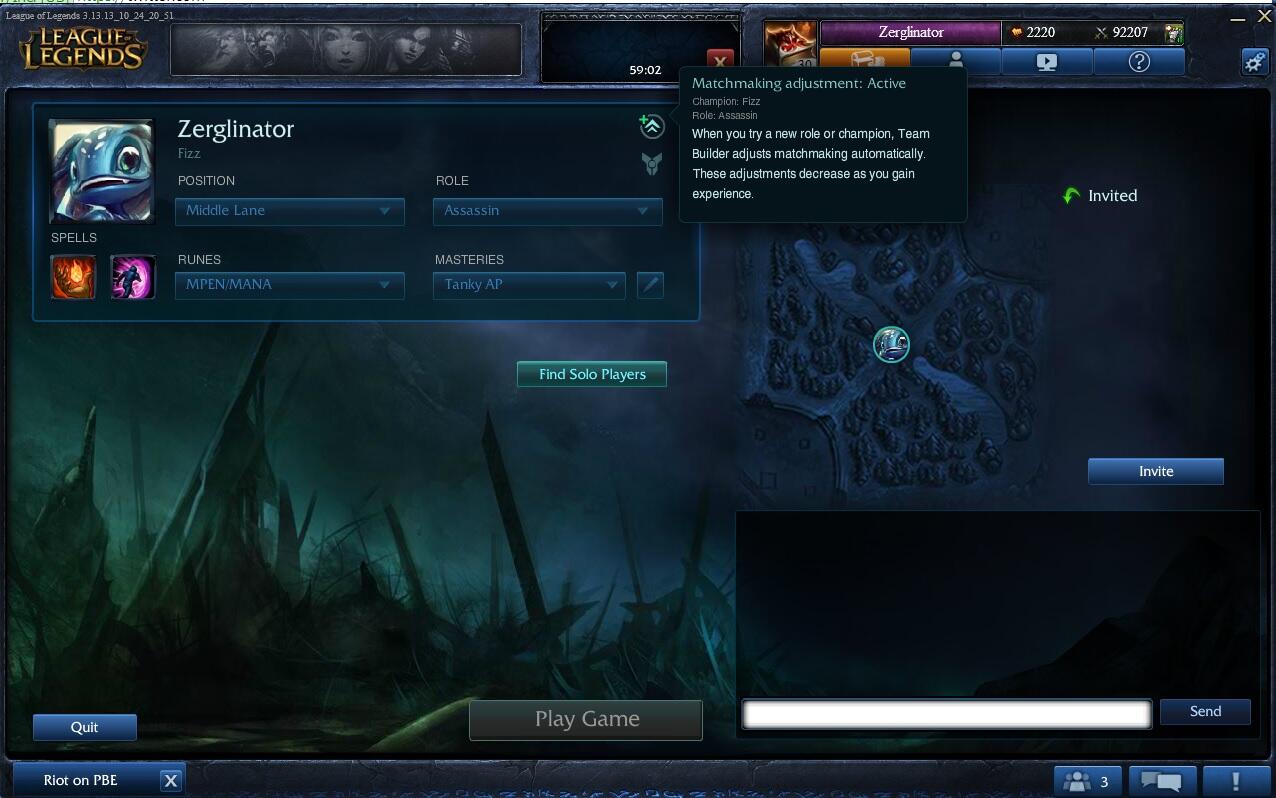 Here is how to get to the Team Builder:
Team Builder Available on PBE!
Originally Posted by Riot (View Original Source)

Summoners,

Team Builder's coming to PBE today! From 1 – 5pm PST over the next three days (Oct. 25th – 27th), select PBE testers will be able to try out this new feature and give us invaluable feedback on its design and functionality.

I'm excited to get your hands on Team Builder for the first time, but we're trying something very different with this PBE Release. Team Builder is a complete re-design of Champion Select, which means it's complicated and there are a lot of changes. One of our goals is to collaborate with players on this feature, and collect feedback throughout the development process.

–

What does this mean for players?

As players, you'll be able to help us test the feature extremely early in the process, and work directly with developers to evolve the feature over time.

PBE is a smaller server, so queue times will be longer, and gameplay experiences will not represent a Live server. Matches might be very unbalanced as players of all skill levels will appear in the same match, but our focus is on testing the feature and collecting your feedback.

Many features will be Work-In-Progress (WIP) or not working in Team Builder, for example:

Currently turned off or incomplete:

Skin Selection
Role Selection
Currently, we're only testing Position Selection and the "Any Role" option
Friend Invites from Friends List
Match Found Ceremony
Dynamic Matchmaking Adjustments
Estimated Wait Times
Anti-Abuse System

How often will there be PBE tests for Team Builder?

We don't have a fixed timeline, and it will depend on the feedback we collect in the tests. We'd like to host a PBE test with players once every few weeks.

How do I get involved and help make Team Builder awesome?

VonBurgermeister has a thread here that has instructions for what types of testing we're focused on for Team Builder this round.

RiotDoctahWayne has a thread here that will be collecting information on bugs you've found in Team Builder.

Post general comments and game design questions in this thread!

To participate in future beta testing for League of Legends, apply for beta access here.

Lyte

As we mentioned last week, Team Builder's a new way to queue for normal blind pick games that matches players based on their preferred roles and their chosen champion's play style. Whether you're looking to suit up a perfect five-man poke comp around Jayce and Nid, or you're itching to unleash a wombo combo or two, Team Builder's got the tools to bring the right players together.

Fire up Team Builder and join or create a game either as a captain or a solo player. After selecting their own role, position and champion, captains create their team by indicating what's needed in each remaining position. They can go with something familiar if they want, or they can try to break the enemy team's brains by assembling five assassins in the jungle. It's totally up to them. Meanwhile, solo players indicate the role, position and champion they're looking to try out, and Team Builder works away in the background to find a suitable team.

Once a team is found, Team Builder brings the players into the game lobby to meet the rest of their teammates. Captains accept or decline players to fill the slots they specified, and accepted players then choose whether they want to join or leave the lobby. Leaving places them back into the Team Builder queue, while players that join can start selecting their runes and masteries, and chat with their new teammates. When the team's ready to roll, the captain sends the team into matchmaking.

As with all PBE releases, Team Builder's in its infancy, and we'll cultivate it based on your feedback and testing . The feature's going to have a big impact in-game, so we're going to keep it on PBE until the time's right. It's available for testing for the next three days from 1 – 5pm PST, so now's the perfect time to give it a spin and let us know what you think.